Holidays
Exclusive
First Class

Fares
Doha From London

28-Nov to 22-Dec

£6648

Book Now

Nairobi From London

30-Aug to 03-Sep

£6732

Book Now

Hyderabad From London

12-Oct to 19-Oct

£6789

Book Now

Singapore From London

30-Aug to 30-Sep

£7422

Book Now

Dubai From London

15-Oct to 22-Oct

£7487

Book Now

Hanoi From London

23-Feb to 04-Mar

£7568

Book Now

Johannesburg From London

04-Oct to 12-Oct

£7599

Book Now

Bali From Manchester

25-Nov to 07-Dec

£7948

Book Now

Kochi From London

30-Mar to 27-Apr

£8747

Book Now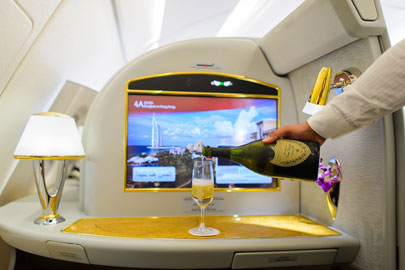 First Class Cabins
A First Class booking with an airline is a luxurious experience that stays with you as a great memory that you can always cherish. The comfort of First Class cabins is bliss that starts from the moment you depart and ends with your arrival at the destination. With the best-in-class amenities offered in these cabins, you experience the happiness of flying with splendour and lavishness. You can avail various services including plush beds, pre-booked meals, great champagne and branded amenity kits.
Booking a First Class ticket gives you a perfect experience as you get the comfort of padded-suede seats which are reclinable and have extendable legroom. The interiors of a First Class cabin is well-designed to offer you a quiet and private space. The lounge access facility for the First Class flyers ensures that you never feel jet lagged.
Book a First Class ticket with us for your next travel and fly in a first-class way!
Read More