Holidays
100% Secure Bookings
Payments powered by WorldPay
Price Beat Or Meet
We guarantee you the best price
Team Of Travel Experts
We help you on every step
24/7 Customer Care
We offer round the clock service
Business Class Flights
Priority Check-In

Comfortable Seating

Fine-Dining
Lounge Access

Extra Baggage Allowance

Enhanced Services
Travellers prefer Business Class Flights as they offer plenty of comforts and amenities to the passengers. When you take a Business Class flight, you enjoy a pleasant and relaxed flight. Particularly when it comes to long-haul flights that are over 6 hours, Business Class Flights are worth considering as the preferred choice of travel. Finding cheap Business Class flights is hard. If you do not get a good deal on your tickets, it is difficult to enjoy the benefits that Business Class flight offers. When you are travelling with children, we advise that you travel on Business Class flights to ensure a smooth journey to your destination.
Book Cheap Business Class Airline Tickets 2023
If you are looking for cheap business class tickets, the chance of finding them within your budget is now easy. Call MyFlightPal travel agents and explain a rough itinerary to them and see what offers you get on the cost of a Business Class ticket. Usually, the airfares of Business Class tickets are very high. But if you are flexible with your travel plans, then our agents can help you to reduce the cost of a Business Class ticket. If you are looking for cheap business class tickets for the first time or want to know more options of the major airlines that fly Business Class, then you can find great deals on our website - Myflightpal.
Fly with Business Class Flights on Myflightpal
Business Class flight deals have many perks to offer to all its flyers. It includes spacious seats, an exclusive meal menu, and priority check-in. Many passengers opt for Business Class flight deals to avail of the best-offered seats and reach their destination relaxed. If you are one of those who often travel, then find our cheap Business Class flight deals and enjoy the comfort you have never experienced with us. We suggest you start checking for Business Class flight deals on MyFlightPal that can help you find the best-offered airfares. You will be surprised when you check our affordable Business Class flight deals. To know more, call our travel agents, who will ensure you find excellent and cheap Business Class flight deals.
Read More >
Search for Business Class tickets to your destination and enjoy its benefits as you fly with top airlines. It is ideal to purchase a Business Class ticket on international routes and for long-haul travel. Business Class tickets offer significantly more comfort and amenities when compared to standard Economy Class or Premium Economy. Amenities like double seat pitch, 2-3 extra inches width, better recliner, exclusive meals, priority check-in, additional baggage allowance, and much more are services available on Business Class tickets. So, even though the cost of a Business Class ticket is higher, it's worth every penny.
Business Class flight price is high, but it comes with comfort and luxury. The high price range of Business Class flights is not affordable for everyone. So if you want to find out how to get the cheapest business class flights for less than the person next to you, book your Business Class flight with MyFlightPal. To fill up the Business Class seats, most of the airlines often discount their airfares. These airfares are not advertised online. Therefore, the airlines work with a handful of travel specialists and agencies who can help you with the cheapest Business Class flights. Our travel agents have a long-standing association with the airlines and know how to get an affordable Business Class flight price. All you have to do is call us or request a callback, and our agents will be happy to assist you with the cheapest Business Class flights. The airfares that we typically offer are cheaper than you get online or on any other website. With that, our agents deliver a bespoke service and bring the best discounts on your Business Class flight price. And this is how we ensure that you get a Business Class ticket for airfare less than the person who sits next to you on the flight.
Read Less >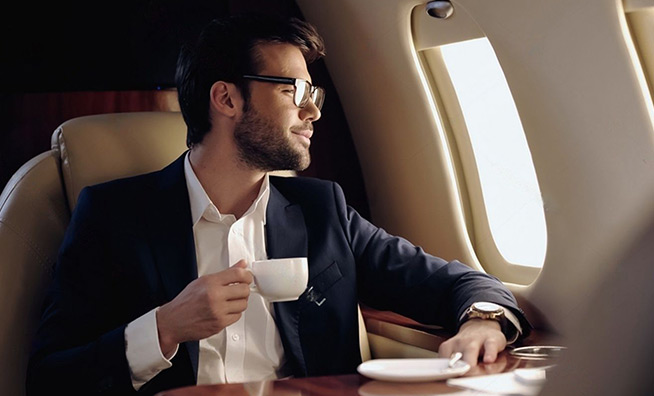 Why customers love Myflightpal?
Myflightpal offers the best premium business class deals to you. Our philosophy is to combine our innovative technology and long-standing bond with top airlines to bring value and expert knowledge to you for a perfect business-class booking. We strongly believe your journey starts with planning. We aim to revolutionize that process by making every step more convenient for you.
Why book with us?
Price Match Promise
Dedicated Travel Assistance
Exclusive Deals & Offers
Cutting-edge Technology
100% Payment Security
4.8+ Trustpilot Rating
7,500+ Business Class Bookings
10+ Years of Industry Expertise
Popular Business Class Flight Routes
Popular Airlines For Business Class Flights
Frequently Asked Questions
Business Class is a type of seating offered on some airlines that is more comfortable and luxurious than Economy Class and Premium Economy. Business Class flight tickets are for corporate travellers who enjoy making the most of their time while flying and reaching their destination relaxed and with energy. Several amenities offered on Business Class flight tickets make it a desirable flying option, including better seats, priority boarding, additional baggage allowance, inflight entertainment options, and more. Although Business Class flights are more expensive, they are worth the offered price as you enjoy more privileges and better services while on-ground and onboard.
Several airlines offer cheap Business Class flights. The major airlines that offer the cheapest Business Class flight tickets are Icelandair, Norwegian Air, Turkish Airlines, TAP Portugal, British Airways, Emirates. However, you ensure that you compare the airfares suggested on these airlines and check their best-offered Business Class amenities. Once you complete your research, book your cheapest Business Class flight or reach out to a Myflightpal travel agent who can help you with the booking process. Airlines like British AIrways and Emirates are surprisingly cheaper as compared to others for several major routes from London.
No, First Class and Business Class are not the same. The main difference is noticeable in your seat and its configuration. When you are onboard, travelling on First Class is more luxurious with better food and drinks, lounge access and services offered. The privacy panels you get on First Class flights are not on Business Class flights. The baggage allowance for Business Class is usually less than the First Class. Business Class flyers have a standard layout with ample legroom and are fully reclining into a bed. First Class flyers enjoy more privacy. The culinary variety offered in First and Business Class is best-in-class. Some airlines also have a chef-on-board facility for their Business Class and First Class flyers
If you are looking for cheap Business Class flights, check our best-offered airfares on Myflightpal. If you're not a frequent traveller, then finding a cheap Business Class ticket may be a task. So, we recommend you talk to our travel agents who can help you with cheap Business Class flight deals. Their bespoke service and budget-friendly airfares will surprise you as they make sure to find excellent and cheap business-class airfares. If you are flexible with your dates, finding the best cheap Business Class airfares is highly likely. Share your itinerary and travel plans with us, and we will strive hard to get you our affordable Business Class flight tickets.
When you travel with Business Class flight tickets, you enjoy various offers and services that include better seat pitch, extra seat width, fully lie-flat recliner beds, electric seat controls with lumbar support, and larger personal screen TV for inflight entertainment. With that, you get more options to explore for your inflight entertainment, laptop power ports, premium food and drinks, better services by the inflight staff, amenity kits from established brands, eye masks and toiletries. Apart from the onboard services, you also enjoy priority boarding, extra baggage allowance, and chauffeur-driven pick-up and drop. The Business Class cabins are much superior to Economy Class cabins.
The airfares of Business Class flight tickets vary due to the dynamic nature of the industry. The typical cost of flying from an international destination on a Business Class ticket varies between £2500 to £4000. Business Class tickets are usually more expensive as compared to Economy Class tickets. However, the experience onboard a Business Class flight is worth the airfare you pay. Usually, Business Class tickets are half the price of First Class tickets, and the offered services are at par with First Class flight tickets. You get to enjoy best-in-class amenities while you are travelling on Business Class.